March 2020 – Economic Snapshot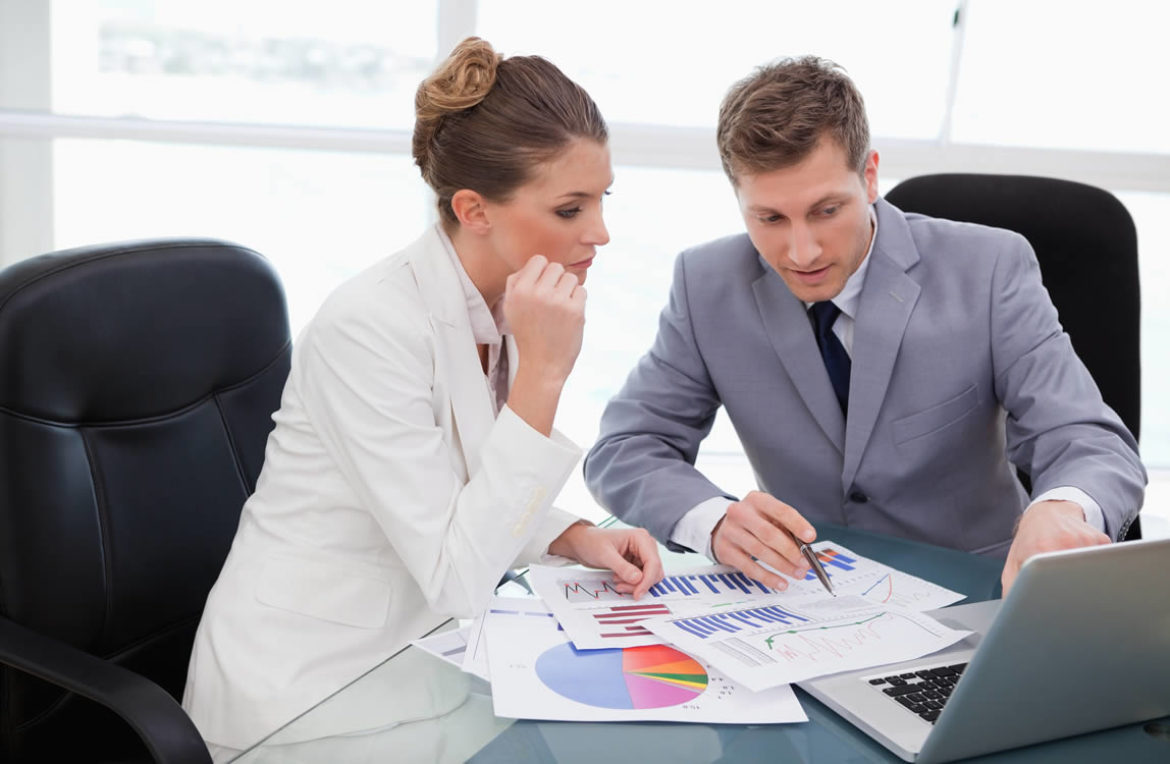 It has been another big week in the global financial markets. In this update, we highlight the markets' reaction to some key developments.
The good news
There were some significant announcements of new policy stimulus around the world, including:
In the US, Congress (eventually) passed a US$2 trillion support package, amounting to about 10% of US GDP. In addition, the Federal Reserve announced that its bond-buying program will be open-ended and that they will also extend support to the credit market through purchases and a special lending facility, as well as to the mortgage-backed market.
In Europe, the ECB said it will buy unlimited amounts of eligible bonds from member countries.
The UK government announced stimulus of around 10% of GDP.
Here in Australia, Federal Government stimulus announced so far is also around 10% of GDP and State Governments have also been committing funds.
China said the only new cases of the virus are visitors from overseas and they have now been banned from entering the country. Beijing is encouraging people to get back to work and estimates suggest China is operating at around 75% of capacity. However, much of that is focussed on domestic demand rather than exports, and China needs to see around 90%+ of capacity being used in order to get meaningful GDP growth for the year as a whole.
The bad news
The less favourable news in recent days included:
The virus continues to spread within affected countries. The weekly number of new cases has stopped falling in South Korea and is sitting around 100. In Japan, new infections have spiked up sharply after seeming to have peaked a few weeks ago. In the US, UK, Australia and across Europe there is no sign of a peak yet. The US now has the highest level of cases in the world.
A further tightening of social distancing policies in a number of countries around the world, including Australia, the US, the UK, Germany, India and Japan.
Prime Minister Scott Morrison said he expects social distancing restrictions to be in place for up to 6 months. This is longer than had previously been expected and partly reflects the fact that we are heading into our winter flu season.
Early survey data on manufacturing and service sector activity around the world showed very steep falls in activity in March. The figures for the US approximate GDP falling at an annualised rate of around 5%. Readings for a number of countries, including Japan, Germany, France, the UK and Australia were at record lows.
In the US, the number of workers filing for unemployment benefits rose 3.3 million, the biggest figure ever recorded, and compared with 0.3 million the previous week.
Together, the survey data and benefit claims data suggest the US is in recession now. The unemployment rate, currently 3.5%, is expected to double or triple.
In the Eurozone, there are the perennial problems about whether the stronger countries have the will and the means to support the weaker countries. This is especially difficult because fiscal policy operates at a country level rather than at a Eurozone level.
Economists around the world are working hard to keep up with the rapidly changing pace of this crisis. Formal growth forecasts are very hard to derive, but there is a general expectation that things will get worse from here rather than better, because the full impact of the social distancing policies in many countries has yet to be seen. Particular concerns relate to a number of vulnerable emerging market nations.
The markets
As Chart 1 (below) shows, financial markets had a much better week, with equities around the world rallying in response to the stimulus measures, especially in the US. This looks more like a relief rally reflecting the markets' state of mind more than the fundamentals. Despite this week's rally, equity markets are still well below where they were in mid-February – see Chart 2 (below).
The stimulus policies around the world are very welcome, but it is still too soon to know if they are going to be enough, especially since the virus had not yet peaked. There have been suggestions that some of the rally in the US was due to Trump saying they will be open for Easter – a highly unrealistic ambition.
As the Atlanta Federal Reserve said: "At present, we simply don't know the extent of the overall disruption to the economy. We are still months away from confidently gauging COVID-19's impact on output growth."
Portfolios
In this environment, a continued focus on capital preservation is key. We will be monitoring the situation very closely and when the time comes for a more positive stance on risk assets, we will unwind some of the defensive measures we have put in place.
Chart 1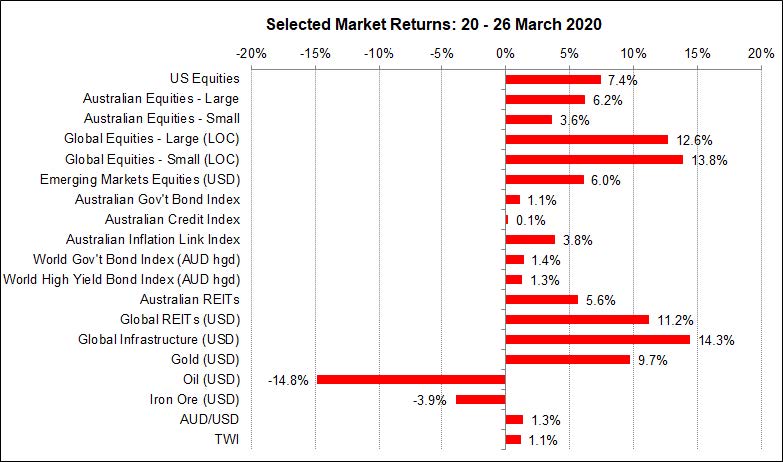 Chart 2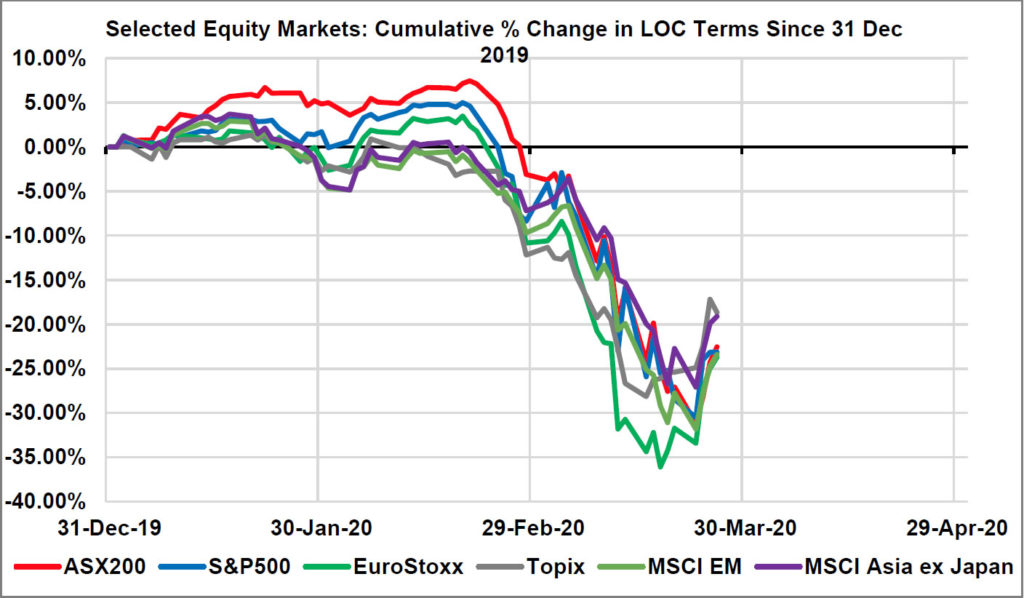 Quilla Consulting Pty Ltd (Quilla) holds AFSL 511401. This document provides general advice only and not personal financial advice. It does not take into account your objectives, financial situation or needs. Before acting or making any investment decision, you should consider your personal financial situation or needs, consult a professional adviser, and consider any applicable disclosure documents.
Information in this document is based on sources believed to be reliable, but Quilla does not guarantee its accuracy. All opinions expressed are honestly held as at the applicable date. Neither the information, nor any opinion expressed, constitutes an offer, or invitation, to buy or sell any financial products. Quilla does not accept any liability to any person or institution who relies on this document and the information it contains and shall not be liable for any loss or damage caused to any person in respect of this document and the information it contains.
This report contains information that is confidential and proprietary to Quilla. You must not use this document, nor the information in it, for any purpose other than that for which Quilla agreed to provide it to you. You must not copy, modify, sell, distribute, adapt, publish, frame, reproduce or otherwise use any of the information in this document without the prior written consent of Quilla.
You may also like